Website Design
Environmental Waste Solutions Ltd
We have been very busy at Glasgow Creative lately developing a range of new website designs for new and returning customers.
We recently completed a range of design and print work for waste management company EWS Ltd and they liked our designs so much they asked us to help design a new website for them. They found their old website to be quite repetitive and there was an overload of content throughout making it hard for their customers to find the relevant information without having to browse a lot of irrelevant content first.
We designed them an eye-catching site boasting their bright colour palette and adapted the content to continue the styling created in the printed marketing materials we had previously created for them. The site is fully responsive, where the content and layout adapts and fits to all devices from the biggest desktop computers to an iPhone screen. This helps ensure their company message is portrayed the same no matter which device a customer decides to visit their web site on,. The site is currently going through final changes before being launched and we will update here with the Web address once live.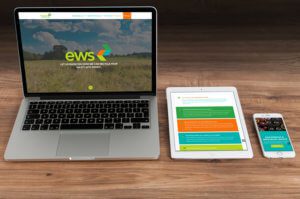 This week we also finished a web site for an events company who specialise in Photo booth and hot tub hire for events such as weddings, birthdays etc and we also begin working on a new website for a Semi Permanent makeup artist next week. Stay tuned for updated of the finished products! if you would like more information on our Web design service visit our Web design page here.
If you are in need of a website for your business or perhaps you have an old website but would like to modernise it, get in touch today on 0141 420 6800 to discuss your requirements, Email us at info@glasgowcreative.co.uk or message us using the Live Chat option on the right between 9am and 5pm.