POSTERS


At Glasgow Creative, we can print posters of call shapes and sizes. With our poster printing services, we can design and print, bold and attractive posters that are sure to get noticed. If you're in need of poster printing in Glasgow or any of the surrounding areas, then be sure to get in touch and one of our team will be more than happy to assist.
Poster Printers in Glasgow
As professional poster printers in Glasgow, we are able to print high quality posters in a range of sizes. We offer a complete service and we can work with you from design to the finished printed item, to ensure your poster is just how you imagined it to be.
Our posters are designed to be extremely durable and we can finish them off in a variety of films to help protect from things such as direct sunlight or rain. No matter how big or small your poster printing order might be, you can count on Glasgow Creative to print them for you.
We believe in always going the extra mile for our customers and that's why we aren't happy until you are. When it comes to poster printers in Glasgow, be sure to get in touch with Glasgow Creative.
We've now made ordering your signage easier, call now!
For more information about our signage services, call today.
Our signage services are second to none, whatever your requirements, we can help, simply contact Glasgow Creative today!
Quality Poster Printing
We pride ourselves on offering one of the best poster printing services in Glasgow. All of our poster printing is carried out using quality inks and materials to ensure a high standard of finish. The poster printing we offer can create posters that are suitable for use both indoors and outdoors.
We can advise on the best types of poster for your requirements, and if you don't have a design, then we can create one for you. With our poster printing service, you can call us to discuss your order or alternatively why not place your order online directly.
Poster Design Service
When it comes to printing posters, we can work with existing artwork or alternatively we can create a design for you. With our in-house poster design service, we'll work closely with you to ensure the design we create meets your requirements. No matter what ideas you might have or information you need including, we'll great a design concept that incorporates them.
5 Steps For Creating Successful Posters
Using posters for events or to promote your business is a fantastic idea, however it's important to include certain pieces of information and aspects into the design to ensure your poster is successful. The top 5 steps for creating posters are:
Think about what the poster is for and if the images are relevant to what your promoting
Make sure the poster is branded and the colours match your company image
Include contact information such as address, website, email and phone number
If you're a business make sure your services are included and clear to read
Include any special offers or discounts to entice potential customers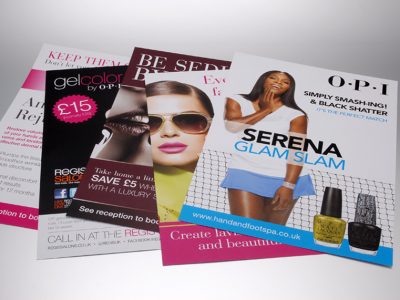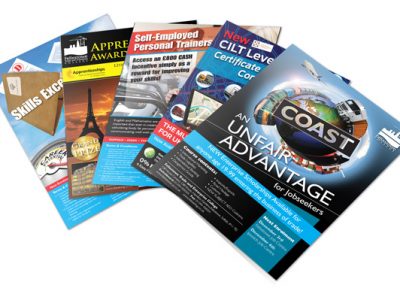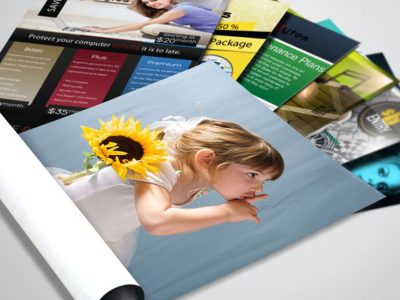 Say It With A Printed Poster
There's no better way to shout about your business or event, then with a poster. At Glasgow Creative, we believe that bold and creative posters say it all and provide all the information your customers need in one place. Using a combination of striking images, bold graphics, and easy to read information means people will be drawn in by your poster. Over the years, we have produced posters for all types of events and businesses, and no matter what your poster printing requirements might be, you can count on Glasgow Creative.
Printed Posters Sizes
Poster printing is a speciality of ours and we have worked with many customers in and around the Glasgow area, supplying them with printed posters. Some of the most popular poster sizes we offer include:
These are just a few of the most popular poster sizes that we print. Here at Glasgow Creative we print on a roll, which means can print almost any size posters. With our bespoke poster printing service we can create posters up to 1.6m wide and 50m long.