This week the team at Glasgow Creative finalised a redesign of the Mearns Castle Golf Academy website.
Mearns Castle Golf Academy is an unrivalled facility that offer golfers of all ages and abilities – from complete beginner to tour professional – the opportunity to develop and improve their game through practice, tuition and play as well as a range of other family-friendly services under one roof.
From our first meeting with our client they told us that they wanted a complete redesign of their current website, with the content to remain but the new website to look more professional and portray the family-friendly nature of the academy as they have various other facilities under the one roof including a cafe, salon and sports therapy massage- to name a few.
It was also a priority that the Website be fully responsive on mobile, tablet and desktop devices. As a large majority of visitors nowadays are viewing on their mobile devices this is very important for any business.
We designed the site with a complimentary colour scheme throughout and used new imagery throughout that they had professionally taken to further improve the look and feel of the website and they couldn't be happier with the finished result.
You can view the original website homepage below compared to the new site and click here to visit the live website.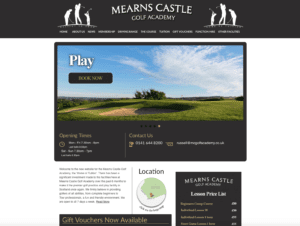 Are looking for a new website? Or perhaps your current one needs a refresh to improve your online presence? Give us a call on 0141 420 6800, email us at info@glasgowcreative.co.uk or connect with us via Live Chat and one of our team will be happy to tell you what we can do for you!